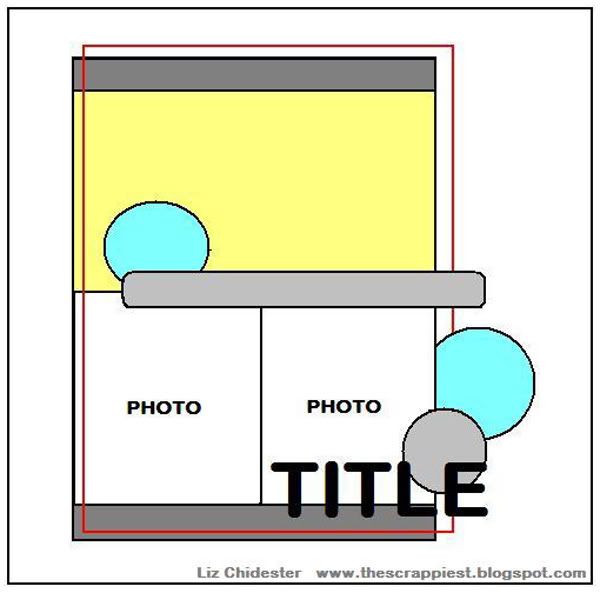 For this week's challenge at
Papercraft Star
we've got another fabulous sketch from
Liz Chidester
. Her sketches never cease to inspire me and I was excited to get working on this particular sketch. (In fact, I actually created this card for this reveal way back in early April!)... I was on a creative roll for a couple of days creating cards for up-coming challenges that I was assigned and because I was really lovin' on the Crate Paper Neighborhood Collection papers that week... it's no accident that the last two cards I've shared over the past two months featured that patterned paper...and today's card does too!
I'm a BIG fan (I know, I know, I said it before) of using scrapbook page sketches to create my cards, so that's what I've created for today's reveal. (that and as much as I do love to scrapbook... I'm even more fond of making cards...thus the reason that I have PILES UPON PILES of them taking up space in my craftroom storage drawers!).


I used one of my favorite patterns from the Crate Paper Neighborhood Collection to create this card (I used some of this same paper on my April 8, Executive Team reveal too)...because I just love that cat...too cute. (Despite the fact that Kristna swears it is a dog!!) :-).

Supplies that I used to create this card include: Thickers (sentiment), Silver gel pen (to highlight the sentiment), Enchanted Evening cardstock and ribbon as well as White cardstock by Papertrey Ink. The button and patterned paper are by Crate Paper.
Don't forget that you still have PLENTY of time to link your project to the current challenge at
Papercraft Star
, you'll find the link in the upper left sidebar of the Papercraft Star blog. We're looking forward to seeing your projects inspired by this fun sketch!