Painting... but not that fun kind that includes paper and glue.
This week I've got lots of projects on my hands. It started with a bathroom renovation (that is two years in the making)...
It included a total gutting of the entire Master bathroom and bedroom.... and two new windows where there where none before (let in the light!!!).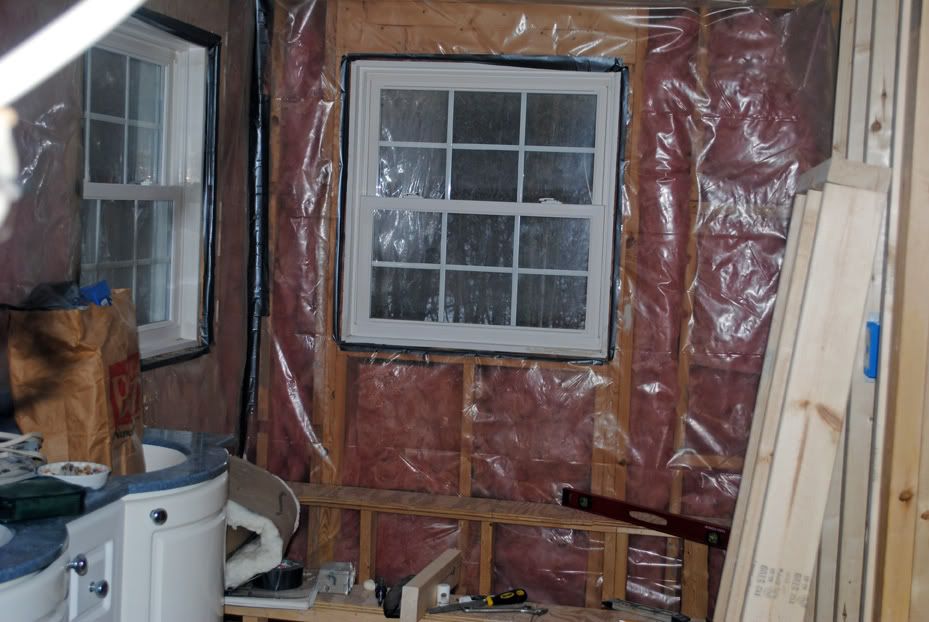 New Windows in Master Bath
The renovation also includes a double shower, a huge whirlpool tub, which my honey just HAD to have... it's more like a swimming pool...and for the record has been in our garage for the entire winter (you know, where my vehicle SHOULD have been)...
The big double shower meant however that the door and part of the wall between the living room and our Master bedroom had to come down to bring the shower in... and then put back up and looking not so pretty...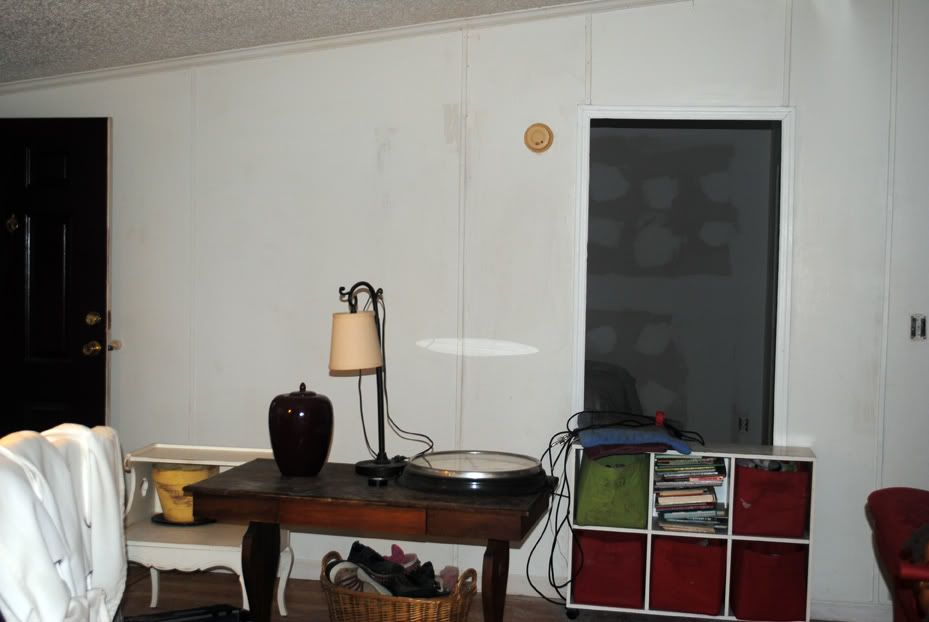 The door frame and wall that came down...and went back up
Because my home is a modular that I had set on a basement, the walls are panel board (yuck!)... so of course that had to be torn down and drywall put up in the Master bedroom.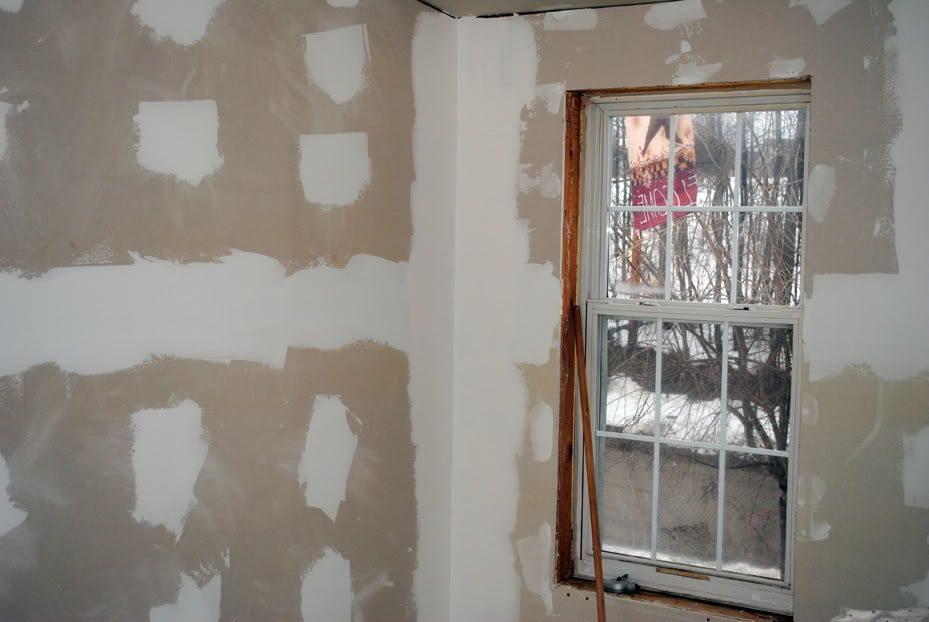 Master bedroom with new drywall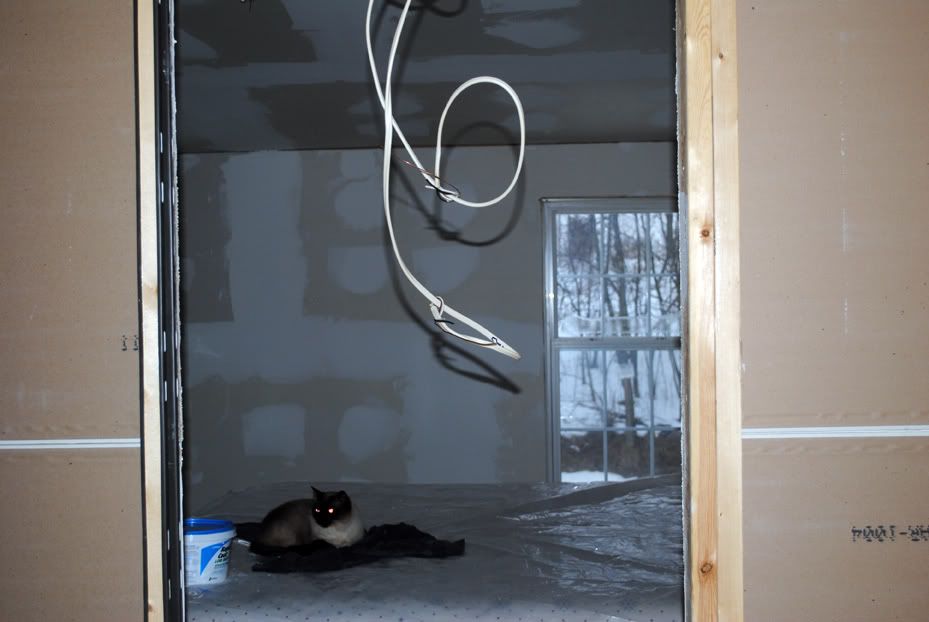 Pocketdoor Frame from Master Bath into Master Bedroom
And... since I had to paint that wall in the dining/living room anyhow... (that's our next project to drywall, but not until the bedroom and bath are finished...and who the heck knows how much longer THAT will take).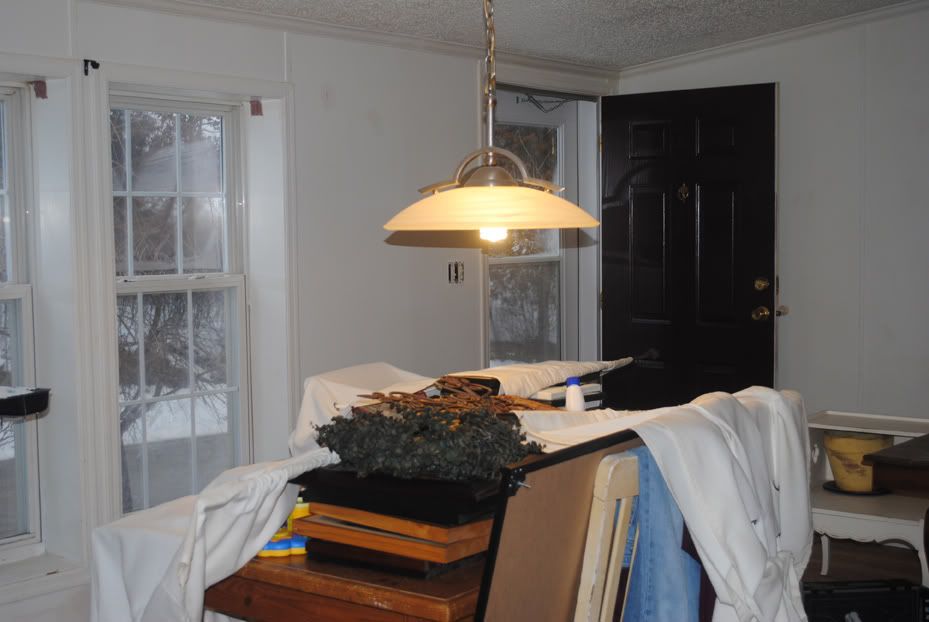 Dining Room
...and since my computer room, kitchen, dining and livingroom are all open to each other, that meant there would be no real place to begin or end the painting, especially since I figured if I was painting anyhow, I might as well do the ceiling...and take everything off the wall, spakle up the holes and change the wall decor around too... (thus the pile of stuff currently on my dining table above). This...the reason I have a lot of this...
Since my grandsons have been otherwise "placed" for day care the last two days, I've made it through the computer room and kitchen (not including my cupboards...that actually REALLY need to be painted too...but geez, I can't do EVERTHING all at once... or ummm, can I?) :-) and I am currently painting in the dining room.
Except for this moment when I stopped to blog...
with the help of one of the cats. :-) At least this room is painted...never mind that everything is still piled in the middle of the room..... AND Kristina is scheduled to fly in in just over a week!!! Nothing like a little pressure to get you to get your house back together before company arrives! :-)
With all this work going on around here... you'd think that a few of the beings that ALSO live here could be helping out a bit.... but they just keep trying to find a place to lay around (which is much harder when the furniture is all piled up (even though the dog beds are free and clear!).
If you look closely on the loveseat however, Heidi, Molly and Marley managed to pile themselves up on the one open spot and left poor Remi to search for a spot on her own... the poor dear.
Okay... so back at it. What are you up to this week?