Each month, the
Memorable Seasons
Design Team receives an "Inspiration Kit" from products at the Memorable Seasons
store
. With the kit, we create projects that we hope will inspire you. This month I had the pleasure of working with Pink Paislee: Sweetness Collection and other yummy goodies from the store. We reveal these projects at the Memorable Seasons forum around the first of the every month. If you have an opportunity to stop by the
Memorable Seasons forum
(it's such a fun, busy and up-beat forum, we'd love to have you join us there!) be sure to check out all of the Designer's inspiration kits for this month!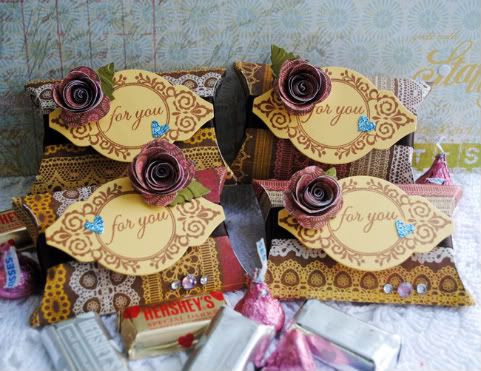 The first thing I wanted to create with this kit were these pillow boxes. Well over a year ago I downloaded a Gypsy file created by the very talented Magoo, you can see the post and download the file at this
link right here.
(Thank you Magoo!). You'll see more of these from me this month as I love to create them as little Valentine's for my friends and family. This pillow boxes are filled with Hersey Kisses and mini candy bars.
Here's a close up that gives you a better look at the rose (a die from My Favorite things) and Stamps and matching die cut from Papertrey Ink. The gems are crystal Hot Rocks that I adhered with my
Imaginisce I-Rock.
I went kinda of crazy with the kit this month and also created a quick and easy card gift set with box, a Valentine candy jar and a scrapbook layout.
This glass jar sports a tag with my new favorite stamp from Hero Arts. The jar is filled with Valentine candy for my family and friends who visit right now...but once it is empty I think it will find a spot in my craft room.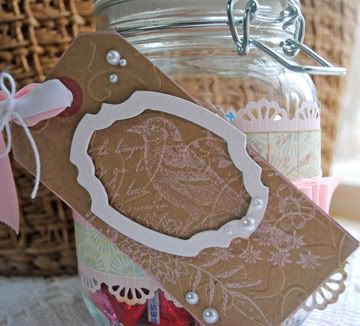 Here's a close up of the stamp I am so loving right now! In fact, it will make an appearance here again on my blog on February 17, but I love it so much, I just want more stuff to stamp on... (where are my grandsons when I need them?) :-)
Speaking of grandsons, I also created this scrapbook layout using a photograph taken a couple of years ago with my oldest grandson (who is now three).
and finally the kit also came with four card blanks that I used to create a quick and easy card set with a gift box (recycled packaging from a Papertrey Ink stamp set)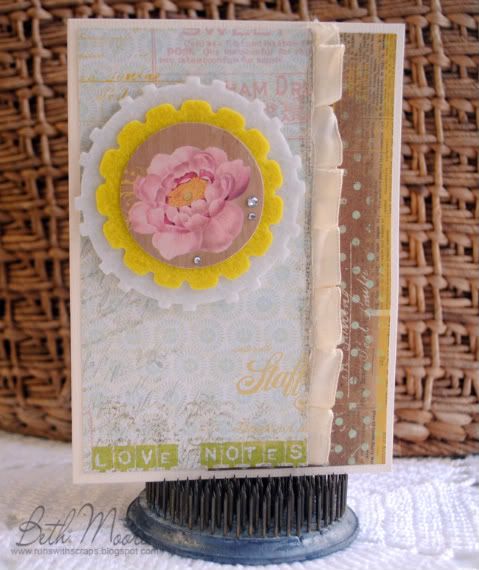 I actually got the idea for this card (above) from a magazine (but heck if I can remember which one right now!).
The darling embellishment from the Sweetness Collection make creating a quick and easy card...well, QUICK AND EASY... you just gotta love that cute felt embellie!
The crocheted flower is handmade by Julie from Memorable Seasons. Pretty flowers like these will be available at Memorable Seasons store very soon!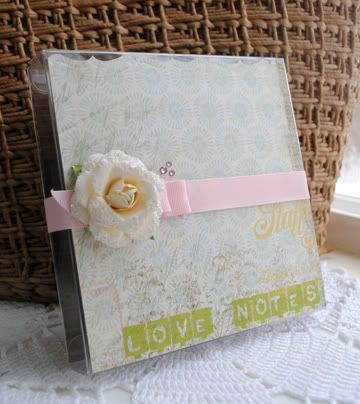 ...and finally, here's the box I decorated to contain the quick and easy card set!
Whew... this was a long post. I guess I should have broken this up into a couple of different posts...but, heck... I'm just too lazy to do it now! :-)
Enjoy your day and as I type this I hear we are suppose to have 10 to 15 inches of snow by tomorrow morning... I am guessing this means that little groundhog is gonna tell us we still have 6 more weeks of winter here in Michigan (like we needed him to tell us that!)
Speaking of "Furry Little Critters"... you still have time to join
The Kraft Journal challenge
this week, the theme is (you guessed it) "Furry Little Critters", all you need to do is create a project using that theme and either Kraft cardstock or product from
Kraft Outlet
. When you enter a project you are eligible to win a store voucher...so get on over there and enter to win!
Stay warm and be safe if you have to go out!